The Ponnie horses move just like a live horses! Everyone wants to climb on and go for a ride!
Ponnie M: For children between 5-12 years of age; maximum rider weight = 50 kg; recommended rider height 110-140 cm; distances between the saddle and pedal = 40-51 cm; seat height = 65 cm; product dimensions: height 104 cm x width 34 cm x length 97 cm; net weight = 10,3 kg; package size = 68×33,5×72 cm; gross weight = 12 kg.
ORIGINAL DESIGN AND PREMIUM QUALITY
Modern mechanism – ensures the smooth running of the horse.
Purely mechanical toy – no batteries needed.
Comb mane and tail – you can create braids.
Detachable saddle – pony can be saddled before the ride.
Colorless rubber wheels – do not scratch any floor.
Sturdy metal construction, quality materials and workmanship – guarantee a long product life.
Hardwood handles – no plastic.
Pedal shape – provides comfortable support for the feet.
Ponnie M (5-12 years) vs. Ponycycle M (4-9 years)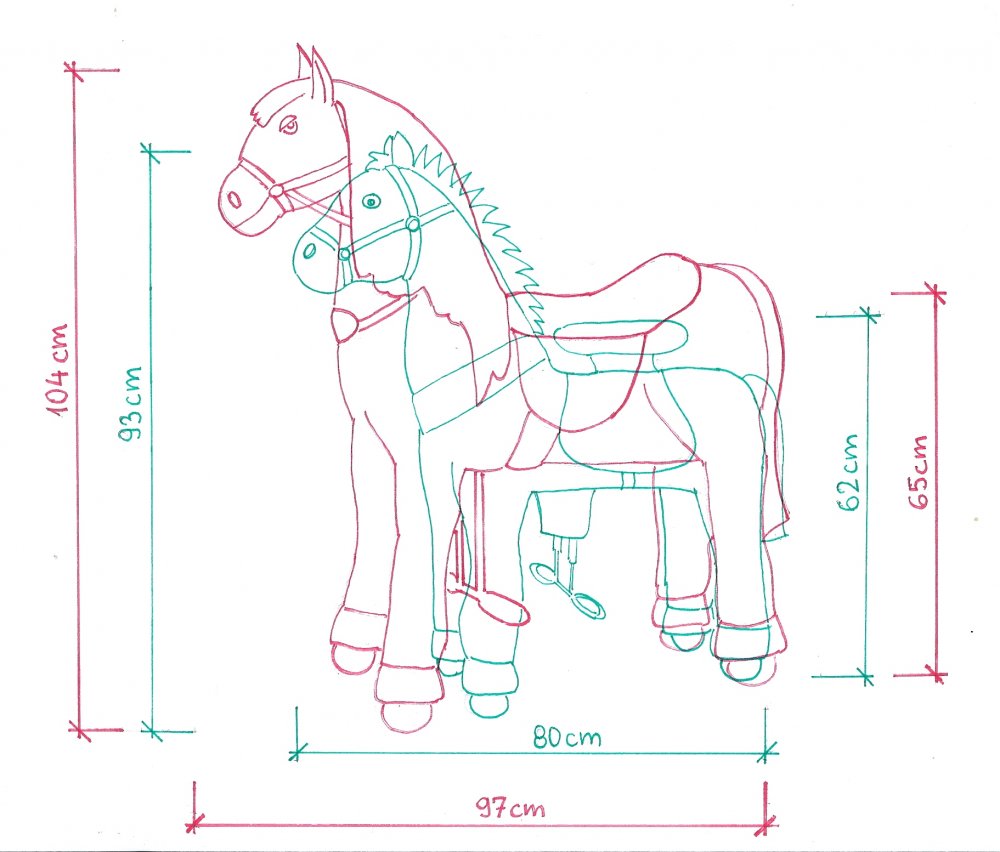 The Ponnie and Ponycycle horses are the best quality products that meet the strictest international certification requirements for children?s toys.
For horses we provide a 2-year warranty and the possibility of returning unused goods within 14 days.
Instead of traditional rocking horses which keep the rider in one spot, mechanical riding horse Ponnie allows your child to ride wherever he wants, making him feel just like he's on a real horse. The Ponnie starts to move as the rider moves up and down the saddle. The rider determines the direction of the horse?s movement through the use of the handles mounted on either side of the head.
The toy is powered by the child's movements. There is no motor and thus Ponnie doesn?t need any batteries. The Ponnie helps children develop their physical coordination and balance. While riding Ponnie, children get to use important muscle groups that are not usually exercised.
Ride on toy Ponnie can be ridden both indoors and outdoors. Its riding wheels are made from a colorless rubber (they look black because of the black internal wheel reinforcement), which will not scratch parquet or floating floors. Outdoors, Ponnie is ideal for riding on paved level surfaces such as those made of asphalt and interlocking paving blocks. We supply Ponnie and Ponycycle horses.
Ponnie is a more modern and larger alternative to Ponycycle horse. Ponnie has a mane and tail that can be combed and braided. The saddle of Ponnie horse does not stick out and therefore does not disturb the horse?s appearance as in Ponycycle products. The Ponnie horse also has perfect riding characteristics. The horses were designed by the Czech graphic artist Olga Smidova. We supply both Ponnie and Ponycycle horses.
Ponnie and Ponycycle horses are completely assembled. All you have to do is simply attach the horse's head to the body.
The packaging of the product does not reveal what is hidden inside, so a surprise cannot be revealed if the child sees the box.
Safe shopping – Trusted Shops Certificate
You don't have to worry about shopping with us! Our website has received the Trusted Shops Certificate for secure e-shops.